---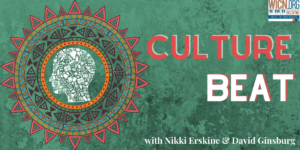 Arts and culture are vital to civic life, and Worcester is fortunate to be rich in arts and cultural organizations. WICN's 
Culture Beat 
shines a light on the cultural happenings throughout our region, as co-host Nikki Erskine, Marketing Manager for the
Worcester Cultural Coalition
, shares insights on all of the ways you can participate, support, and enjoy the incredible fabric of artists, organizations, and institutions throughout Greater Worcester. Nikki shares hosting duties with WICN General Manager David Ginsburg for a lively conversation in this fun and engaging program. Listen to every episode on-demand
here
!
Arts! Culture! What else do you want? 🙂 Listen to every episode on-demand here!
---
Read more
---
Culture Beat crew
---
Nikki Erskine is the co-host of "Culture Beat" on WICN, sharing tips and insights on the arts and cultural scene throughout Greater Worcester, including ways in which you can participate and support various artists, organizations, and institutions.
David Ginsburg, a Worcester native,  returned to radio after an 11-year absence in October 2018 by joining WICN as General Manager. David has a background in both radio promotions and music programming, earned during a long tenure at 92.9 WBOS in Boston.  He transitioned to social media marketing during a stint at a Boston-area media agency before forming his own social media marketing consultancy, Rose Atwater Social.
---