---
---
Steve Miller shows
---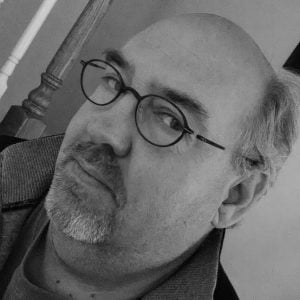 Steve Miller hails originally from Columbus, Ohio, and moved to Massachusetts in 2013.  He spent his career working in the world of insurance and now works as a semi-retired consultant when not spinning discs at WICN.  Steve first heard jazz in his parents' home and his passion for the music truly ignited in high school and college.  He lives in Central Massachusetts with his wife Leslie and their highly ridiculous dog, Coltrane.
5 Questions with…Steve Miller 
What brought you to hosting a show at WICN?  Why do you love being on the air?
When I moved to Central Mass, I started listening to WICN while I worked at home.  I later learned of a family connection to Jazz Highway host Joe Cicero.  I asked Joe if the station ever needed volunteers and once I retired from full time work, I started coming into the station to assist with office tasks.  It wasn't long after that I got the opportunity to learn how to be an on-air host.  I haven't looked back.  
I love playing my favorite artists, and exploring the CD library at the station for discs I've never heard or haven't heard for a long time.  I love listener requests for the same reason — it's generally something that I wouldn't have picked on my own and it's always a treat.
What is your favorite WICN memory?
As corny as this may sound, the memories are made with every shift.  I love playing emerging artists with their first or second releases, helping them to establish their careers.  I also enjoy interacting with the other hosts.  These men and women are so inspirational in their knowledge and passion for the music.
The best concert I ever saw was _____? (And why)
My most memorable concert wasn't the best.  I was lucky to see my musical hero, Miles Davis, when his last American tour came to Columbus.  It wasn't a great show.  Miles's health was declining, he was in a bad mood and made sure everyone knew it.  The sound in the hall kept patching in and out. Yet, it was remarkable to me that I was in the same room with someone who had changed the course of the music so many times and played with so many of the giants of the genre.
Many listeners don't know…
When not listening to music or working with my clients, I can generally  be found reading (history, biographies and classic crime fiction), cooking, watching birds, playing with my goofy dog, and exploring New England.
Favorite Artists of all time
Miles Davis, John Coltrane, Chick Corea, Weather Report, Paul Simon, Leonard Cohen, Maria Schneider, Van Morrison, Joni Mitchell.
---